Our History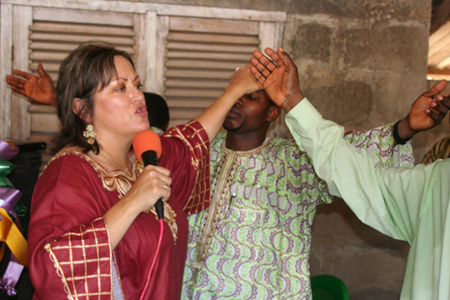 Hidden With Christ Ministries was born in the year 2000, the result of a word of the Lord received during a 40 day fast. With a specific directive to "GO ON THE RADIO," Rita Langeland launched the program "Keys to Victorious Christian Living." The focus of the broadcast was to present Biblical truth in a practical, down to earth manner that could be applied in everyday life. Starting with one radio station broadcasting the program, the number of stations increased until it was being heard in different parts of the United States as well as Europe and Africa via World Harvest Radio. Emails began to be received in response to the broadcast along with invitations to speak in various places. One specific invitation from a Bishop in Tanzania, East Africa to put on a seminar for his village pastors, helped to launch what would become a new direction in missions work and a consuming passion for Hidden With Christ Ministries.
During that very first trip to minister in East Africa, the Lord deposited a supernatural love and vision in Rita's heart for the African people. Since 2003 she has made numerous trips to the African continent to minister, primarily focusing on the training of indigenous church leaders. She also began to take teams along to do children's ministry and medical outreaches.
While ministering in Africa, a God-given desire to establish two important projects began to grow in Rita's heart. With the needs of children affected by the AIDS epidemic evident all around, a vision for a place of safety, love and education for orphaned children prompted her to begin the lengthy process required to open the doors to the Treasures of Africa Children's Home in Moshi, Tanzania. TOA began receiving its first residents in March of 2007. (see www.treasuresofafrica.org)
The next 3 major projects we are prayerfully pursuing include the construction of a larger facility for the TOA orphanage because we are restricted in size due to the current property which we rent. We have already purchased a 5.4 acre parcel of farmland approximately 15 minutes outside of the town of Moshi. We have drilled a water well and built an enormous security wall around the property in anticipation of this building project. Working closely with the American NGO BuildingAfrica - architectural plans are nearly completed for the new TREASURES OF AFRICA CHILDREN'S VILLAGE. (CLICK HERE for more information) We are now fundraising for this amazing project which will house 120 children and include vocational training centers on the property. It will be a state of the art alternative energy project featuring solar power and rain water harvesting. The estimated cost to build this sustainable project is approximately $5 million.
Also we desire to build a medical clinic out in a rural Maasai area where we have already been given a piece of property. The need for medical care in that area is critical as there is a high infant mortality rate due to malaria and other curable diseases.
Lastly we desire to establish Faith Training Center International, a ministry training center for indigenous African church leaders. We are committed to helping to strengthen the native Christian church in Africa through leadership training and discipleship in the Word of God. The opening of FTCI will be an important component of fulfilling that committment.
Other projects in Africa that HWCM has been involved in include: construction of native churches, water well projects, and native pastor support.
HWCM's radio broadcast was phased out in 2006 as our media focus began to make a shift. We are increasingly in pursuit of using the internet to spread the good news of God's Word. We now have an archive online with the radio program "Keys to Victorious Christian Living" available to freely download or listen to on the computer. In addition Hidden With Christ Ministries launched a free Bible APP entilted MY EVERYDAY BIBLE which is available in the APP stores at no cost. MY EVERYDAY BIBLE features a daily audio reading of the Bible and a teaching at the end of each reading by Rita Langeland. This APP enables the user to go through the entire Bible in Chronological order in 365 days. Search under the name RITA LANGELAND and the APP will be found immediately.