Finding Blessing in the Hard Places
By Rita Langeland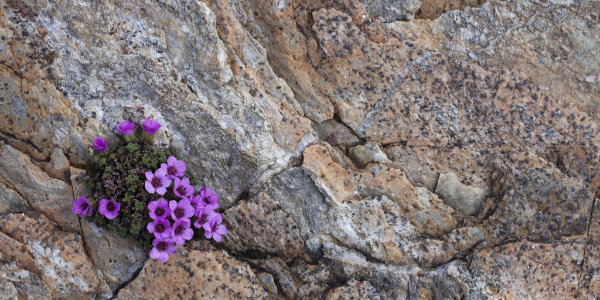 He nourished them with honey from the rock
and olive oil from the stony ground.
Deuteronomy 32:13b (NLT)
As human beings, we work hard to avoid difficulty and hardship in our lives. Faced with adversity, we pray desperately to escape it as soon as possible. This is a natural, human reaction to distress of all kinds.
Yet, what is often overlooked is the truth that we can experience blessing in the midst of the hard places in our lives according to God's Word. Your Heavenly Father delights to bring "honey from the rock" and "olive oil from the stony ground" in your life. The question is, "Will you allow Him to do so?"
The key to everything in God is trust. Trusting God in the middle of the difficult circumstances we face in life will always result in God's favor and blessing. But often we find people cursing God when adversity comes or at the very least, questioning His love and goodness. "If God is so good, then why did He allow this to happen in my life?" "If God is a God of love, why is there so much tragedy in the world?"
These common questions presuppose that God is the author of the tragedies we see in this world and that God controls what happens in the earth because He is God. But there is a fundamental error in that presumption.
God created the world to be a beautiful blessing for mankind. Originally, there was nothing harmful or fearful in it. It was pure beauty and abundance. The Garden of Eden was a genuine paradise – free from all the heartache and dangers we see in the world today. God gave authority to Adam (man) to rule and have dominion (under God's ultimate leadership) in that paradise called earth. But God also gave Adam (and all of mankind) something very powerful and potentially dangerous - a free will.
We are able by a choice of our will to follow God or to follow Satan. Depending on the choice we make, we are either servants of God or servants of the devil. Adam and Eve made a choice in the Garden of Eden to follow Satan when they intentionally disobeyed God's directive to them. The rest is history. Sin and rebellion entered the world at that moment and everything in the earth began deteriorating from that point forward.
Rebellion against God has caused every sorrow in the earth today. Selfishness, hatred, murder, theft, immorality, unfaithfulness, lying…you name the sin and it can be traced back to the original decision of Adam and Eve to disobey God. It wasn't God's will or intention that the world become a place full of violence, hatred and murder. It was man's choice. And Satan has taken full advantage of man's surrender of his authority in the earth. That is why the Bible calls Satan the "god of this world." (2 Cor. 4:4) When man abdicated his position of authority by rebelling against God and following Satan, the devil was waiting in the wings to swoop in and take the reins. And the influence of the devil in the earth continues to be very evident. When Jesus was describing the activities of Satan in the earth, He said, "The thief comes only to steal and kill and destroy…" (John 10:10) Jesus attributed all such activity to the devil himself. Then he went on to explain His own mission in the earth, "I came that they may have life, and have it abundantly."
So, if you can accept Jesus' own words that clearly point to Satan as the author of whatever has been stolen from you – health, children, family, happiness, finances, etc., you can lay aside any mis-placed blame that you may have leveled at God for adversity in your life. If you can embrace Jesus' statement that His desire for you is abundant life - then you can begin to take hold of the spiritual weapons He has provided to His children to deal with and overcome adversity and tribulation. If you can trust that God has your best interest at heart and will help all those who call upon Him, you can begin to experience "honey from the rock" and "olive oil from the stony ground" in your life.
I have read a multitude of biographies of great Christian men and women over the years. It has been a subject of great interest to me to observe how each of these saints of God have handled the difficulties they have faced in their lifetimes. When a person walks through a lengthy season of adversity, they have an opportunity to emerge from it either bitter or blessed. These heroes of the faith came forth from those hard places with a blessing. What was their secret?
My observations have led me to extract the following commonalities from the lives of these victorious Christians.
They all had an unwavering confidence about God's goodness and love for them
When adversity arose, they did not blame God but instead drew closer to Him
In the midst of the trials, they believed God was present and desirous of helping them
They had an enduring faith that God would pull them through regardless of how dark and hopeless the circumstances became
When they came out of the trial, they glorified God for His goodness and were able to point to specific blessings that they received during the difficult season including: a greater awareness of God's presence, a closer walk with God, increased spiritual sensitivity, a compassion for others they never previously possessed, increased wisdom, the joy of being able to help others gain victory over their difficulties, patience, endurance and spiritual maturity
In the biography entitled "Evidence Not Seen: A Woman's Miraculous Faith in the Jungles of World War II," Darlene Deibler Rose tells the gripping story of her life as a young missionary to Indonesia. When World War II broke out and the Japanese invaded the island where she and her husband lived, they were taken captive as prisoners of war. The intense suffering and tribulations of life in the women's prisoner of war camp, separated from her husband who was sent to a camp for the men, lasted more than four years. Her husband died during that painful separation and at the end of the war, Darlene returned to the United States as a widow at the age of 28. All five of the characteristics listed in the previous paragraph can be observed in Darlene's story. Though her season of adversity was a brutal one, she came forth having extracted "honey from the rock." Her book is one of the most outstanding Christian biographies of our era and well worth the time taken to read it.
You may never find yourself imprisoned unjustly in a foreign country, but your current situation may feel as deeply painful. God wants you to come forth from the trials you are experiencing with a blessing. The key is found in trusting the goodness and love of God. Be careful not to blame God or question His love for you when you are under pressure. Draw near to Him, don't pull away in anger or bitterness over your circumstances. Meditate on scriptures that speak of His faithfulness. Ask Him to show you how to find the good in your situation. Then thank Him daily for what He is doing in your heart in the midst of trouble. And you will be in good company with those who have learned how to draw "honey from the rock" and "olive oil from the stony ground" of life.
Though I walk in the midst of trouble, You will revive me;
You will stretch forth Your hand against the wrath of my enemies,
and Your right hand will save me.
Psalm 138:7 Amplified Bible, Classic Edition