Day 3 on Mt Kilimanjaro
December 9, 2012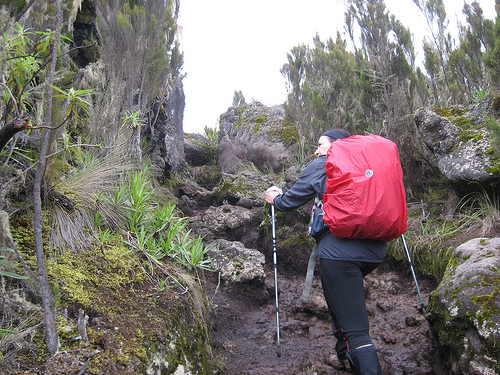 When we got up this morning, our tents were frosted over, evidence that it had been well below freezing last night. The sky was clear and we could see Mt. Kilimanjaro's peaks clearly.
Unfortunately our youngest Climb Team member – Doreen – from Treasures of Africa had to go down off the mountain. Altitude sickness or the medication caused such nausea and lack of appetite that she just did not have the strength to continue.
Today we headed to the Barranco Camp – so named for the infamous Barranco Wall – an ominous part of the mountain that must be overcome in order to reach the summit. To get there we headed into yet another ecological Zone known as the Moorlands. Even sparser than the Heather Zone, it had some very unique plant life which grew up amidst an incredibly rocky landscape. Though not as steep a day of climbing as yesterday – it was longer. And it took us up to over 15,000 foot elevation to a place called the Lava Towers an amazing rock formation that juts up high in the sky with a menacing ruggedness. The hike up to the Lava Towers was purely for acclimatization to the altitude as we immediately hiked back down to just over 13,000 feet to reach Barranco Camp. The hike down was extremely steep and the ground was covered with sharp shards of rock . We crossed over streams and saw streamlets that were half frozen and came upon several waterfalls before reaching the Barranco Camp.
The temperature is even colder tonight than last night. The Barranco Wall awaits us tomorrow and we are praying for supernatural assistance to overcome it.