Don't Leave the Trail
He is on the path of life who heeds instruction, But he who ignores reproof goes astray.
Prov. 10:17 (NASB)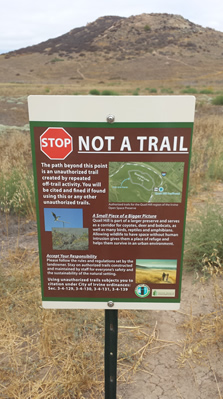 I was walking in a Nature Reserve where I like to hike and pray in the mornings. Along the path I came upon a trail that diverged from the main path and meandered up a hill. To dissuade people who might be tempted to follow this alternative route, a sign was posted that stated, "STOP! NOT A TRAIL!" The sign made me smile, because it seemed to dispute the obvious. It was indeed a trail. Clearly not an authorized trail, but a trail for certain.
In life we face similar temptations. An opportunity to take a path that appears interesting or desirable may present itself, but upon closer examination it becomes apparent that it wanders away from God's perfect will. If God was in the habit of posting signs when people were about to wander off in a wrong direction in their lives, He might write, "THIS IS NOT MY TRAIL!" And yet truthfully, we could say that God has posted many signs. They can be found by anyone willing to study the Bible.
The thing about alternative paths to God's perfect will is that they always look so appealing. They seem to offer a quicker, easier and even smarter route to get to our desired end. Yet they are always filled with trouble and heartache.
God's Word gives us clear trail markers to follow. One very common path that people seem so easily sidetracked by is the path that promises quick riches. It is a trail that always sounds so appealing and so hopefilled. Yet it inevitably leads to disaster. The Book of Proverbs makes a clear statement on this subject. The trustworthy person will get a rich reward, but a person who wants quick riches will get into trouble. Proverbs 28:20 (New Living Translation)
Many people over the past few decades have been enticed by an "off the beaten path" trail promising quick money and found themselves scammed by some sort of pyramid scheme. This has happened in Christian circles as well.
We need to heed the trail markers God has laid out in His word that make it very clear that there is a Biblical method to increase financially and enjoy prosperity in your life. But it involves diligent effort, a generous and giving spirit, humility and the fear of the Lord. And there is no shortcut on that path!
...the hand of the diligent makes rich. Proverbs 10:4 (NASB)
He who is generous will be blessed, for he gives some of his food to the poor. Proverbs 22:9 (NASB)
The reward of humility and the fear of the Lord, are riches, honor and life. Proverbs 22:4 (NASB)