God's Word as Your Daily Bread
…man shall not live by bread alone; but man lives by every word
that proceeds from the mouth of the Lord.
Deuteronomy 8:3 NKJV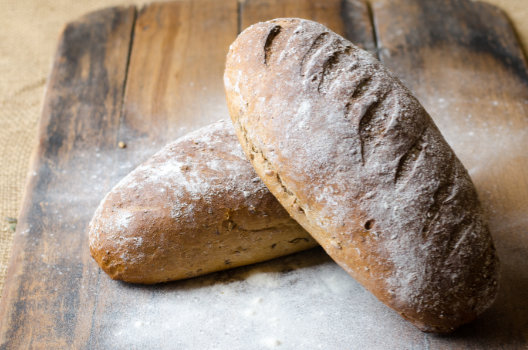 If you study the fascinating history of bread, you will discover that it has been a staple food across many cultures for centuries. Bread has been called the "staff of life" referencing the importance of it as basic sustenance for human survival. Despite recent diet trends which have vilified bread as a dietary evil, bread has historically been a crucial part of mankind's basic nourishment. In Egypt, thousands of years ago, workers were paid in loaves of bread – which lends a unique illustration for the word "breadwinner!"
Deuteronomy 8:3 tells us that we should not live by "bread alone" - acknowledging the central place that bread held in society as a means of sustaining life when those words were written. Yet the verse goes on to say we need to live "by every word that proceeds from the mouth of the Lord." God gives us a master key in this verse that will unlock the door to successful living.
The Bible is full of wisdom and godly instruction for every area of our lives from relationships and child rearing to finances and business. Choosing to partake of the daily bread of God's Word will help us whether we are facing simple issues requiring decision making or handling the intense crises of life. It has encouraged me to read biographies of people who looked to the Bible (and the Spirit of God) for guidance and to observe how their lives turned out when they did so.
One of my faith heroes is a Dutch woman named Corrie Ten Boom. She endured the intensity of World War II, the invasion of her country by the Nazis and eventual imprisonment in a concentration camp for the crime of hiding Jews to protect them from being sent to Nazi death camps. Her story was poignantly portrayed in the movie "The Hiding Place." For me, one of the outstanding lessons from her life story was how she endured such horrors by holding on to God's Word. One of her favorite verses was Psalm 32:7 from which the title of the movie was taken. She would repeat this verse over and over and it kept her alive and trusting God during the nightmare of her captivity in Ravensbruck. The verse reads: You are my hiding place; You preserve me from trouble; You surround me with songs of deliverance. Psalm 32:7
You don't have to be in the middle of a crisis to obtain help from the Bible. If you run a business, you need to make decisions every day of the week which will affect the long-term viability of your operation. An article was published in U.S. News and World Reports in February 2015 entitled, "The Bible Is A Good Business Guide." The author makes the case for ethical business dealings resulting in business success. He cites Bible passages that are the basis for "Best Business Practices" such as Leviticus 25:14 - When you make a sale to your neighbor or buy from your neighbor, you shall not cheat one another. He mentioned Biblical admonitions regarding limiting debt (Proverbs 22:7) and taking care of employees (Leviticus 19:13). If you are a business owner or manager, the Bible will give you wisdom for daily decision making that will lead you to success in your endeavors. For further insight, you can read about the founders of two extremely successful restaurant chains - Chick-fil-A and In and Out Burger – who both used Biblical principles to guide their business development and have enjoyed outstanding success.
In our current generation, parents are more concerned than ever with the issue of keeping children safe from the wicked influences of the world at large. The guidance of God's Word is critical at such a juncture in history. Without it, the multitude of voices giving suggestions and so-called help for parents will prove both confusing and overwhelming. The clarity that the Bible brings to modern day problems is astonishing considering it was written so many centuries before our time. In Pastor Bill Johnson's book on parenting entitled "RAISING GIANT KILLERS," he shares the scriptures that his own mother prayed over him and his siblings as they were growing up. She in turn passed her list of Bible verses on to her children as they became parents and they have continued this valuable practice and prayed the Bible over their own children and grandchildren. Not only is the Bible full of wisdom that can serve as counsel to a person in making important decisions, it is living and powerful truth that can be "declared" with amazing results.
Here are a few of my favorite Bible verses that I like to "declare" over my children and grandchildren:
My offspring will be known among the nations and their descendants among the peoples. All who see them will recognize and acknowledge that they are the people whom the Lord has blessed - Isaiah 61:9
All of my children are taught of the Lord, and great is their peace - Isaiah 54:13
Behold, I and the children the Lord has given to me are for signs and wonders - Isaiah 8:18
Look under the RESOURCES tab on this website to find printable Scriptural Declarations for Marriage, Children, Healing, Work, Financial Breakthrough and a host of other subjects.
If you have not been in the habit of "breaking bread" with the Word of God each day, I want to strongly encourage you to start that practice. Simple ways to do so are to buy yourself a "Daily Bible" that breaks the Bible into daily segments that can be read over the year. I enjoy sitting each morning with my cup of coffee and my Daily Bible in hand – it is a priceless way to start the day!
I also highly recommend getting a Daily Devotional. There are many excellent ones on the market. This will give you practical application to the Bible passages you are reading. If you shop on Amazon, type in the words: "daily bible devotional" and an extensive list will be brought up. Some excellent ones include: Hope for Each Day by Billy Graham, Trusting God Day by Day by Joyce Meyers, God is With You Everyday by Max Lucado and Faith Food Devotions by Kenneth Hagin.
You will never regret taking God's Word as your daily bread!